| | |
| --- | --- |
| رابطة قدامى الإكليريكية البطريركية المارونية | |
Film to portray martyrdom of Missionaries of Charity by Islamic State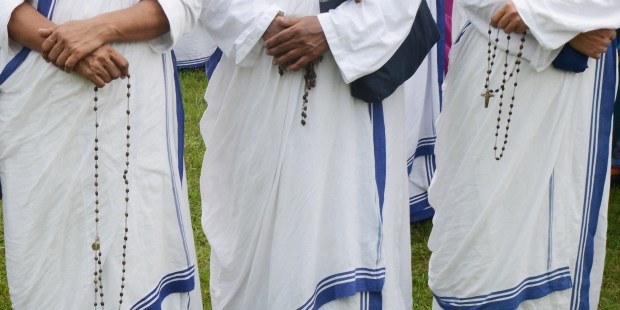 A new movie will tell the story of four religious sisters of Mother Teresa's order who died as martyrs in Yemen.
British and Yemeni filmmakers have announced the production of a film depicting the martyrdom of nuns murdered by the Islamic State in Aden, the capital of Yemen, on March 4, 2016. The religious were members of the Missionaries of Charity founded by Mother Teresa of Calcutta. News of the upcoming film was shared in a recent article in National Catholic Register. 
The movie will be called The Garden of Aden, which, in addition to referencing the city where the martyrdom took place, also uses wordplay to contrast this place of suffering with the garden of Eden.
Islamic State jihadists attacked Sisters Anselm, Reginette, Judith and Marguerite, all from the congregation founded by St. Mother Teresa of Calcutta, at the home for the elderly and disabled that the Missionaries of Charity ran in Yemen's capital.
Twelve other people were killed in the vile attack, including elderly residents. The terrorists also kidnapped a Salesian priest, Fr. Tom Uzhunnalil, whom they eventually freed after 18 months.
According to the National Catholic Register, producer Liam Driver argues that the brutal killing of the missionaries is a testimony that it's possible to bring together people of different faiths and ethnicities in a joint project for the sake of others, characterized by unity and mutual respect. 
The topic is close to his heart, as he has a life-long connection to the Missionaries of Charity. He tells the Register:
"Mother Teresa played a strong role in my upbringing, as she used to write to my mum and grandmother. We still have the letter where she said she was praying for me and my brothers when we were children. So it moves me to think that, decades later, I am making a film about her sisters who were martyred during the year of her canonization."
Regarding the missionaries, Liam Driver adds that "they have no focus on themselves, but on God and their concern for the suffering of others." This testimony "brings us right to the heart" of what is happening today in Yemen, a country devastated since 2014 by a civil war between Muslim factions. According to UN estimates, the conflict has killed more than 230,000 people and forced more than 3 million to flee their homes.
Their last prayer
Despite the brutality they suffered, the Missionaries of Charity announced that they would not abandon Yemen.
Bishop Paul Hinder, Vicar Apostolic for the Southern Arabian Peninsula, testified about them in a statement to CNA:  "The Missionaries of Charity died as martyrs: as martyrs of charity, as martyrs because they witnessed Christ and shared the lot of Jesus on the Cross."
He also revealed that shortly before their martyrdom, the women religious had prayed this prayer:
"Lord, teach me to be generous. Teach me to serve you as you deserve; to give and not to count the cost, to fight and not to heed the wounds, to toil and not to seek for rest, to labor and not to ask for reward."
If you're reading this article, it's thanks to the generosity of people like you, who have made Aleteia possible.
Here are some numbers:
20 million users around the world read Aleteia.org every month
Aleteia is published every day in seven languages: English, French, Italian, Spanish, Portuguese, Polish, and Slovenian
Each month, readers view more than 50 million pages
Nearly 4 million people follow Aleteia on social media
Each month, we publish 2,450 articles and around 40 videos
We have 60 full time staff and approximately 400 collaborators (writers, translators, photographers, etc.)
As you can imagine, these numbers represent a lot of work. We need you.
Support Aleteia with as little as $1. It only takes a minute. Thank you!