| | |
| --- | --- |
| رابطة قدامى الإكليريكية البطريركية المارونية | |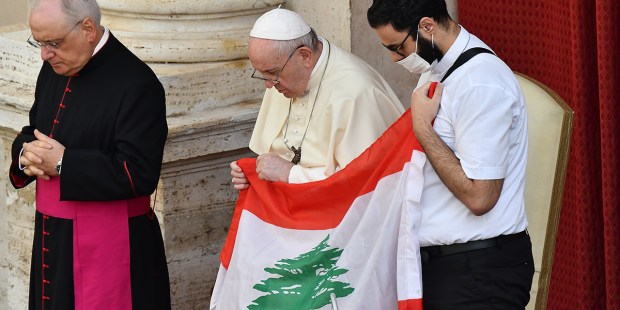 The special role of this country is threatened with difficulties.
On July 1, Pope Francis will welcome to the Vatican a delegation of the main leaders and representatives of the Christian Churches in Lebanon. The day's program was presented at a press conference at the Vatican on June 25.
The day will begin at 8:30 am when the Lebanese Christian representatives will be received at the Casa Santa Marta by Pope Francis. The pontiff will give a speech to welcome them, then all will go to St. Peter's Basilica at 9 a.m. for a brief moment of prayer.
From 10 a.m. to 6 p.m. Christian representatives will participate in three consultation sessions during which each point of view will be presented. No common appeal is planned, said Cardinal Leonardo Sandri, prefect of the Congregation for the Eastern Churches, but there will be a "word from the pope" which will give indications and can be read as a "program" for the future of Lebanon. This final address from the Holy Father should be given at 6 p.m. in St. Peter's Basilica during a moment of ecumenical prayer for peace.
Summit participants
The list of 11 summit participants was presented. On the side of the communities under the Holy See, will be the apostolic nuncio to Lebanon, Bishop Joseph Spiteri – who will be the moderator of the meeting – as well as the Maronite Cardinal Bechara Boutros Raï, the Syro-Catholic Patriarch Ignace Youssef III Younan, the Melkite Patriarch Youssef Absi, Chaldean Bishop Michel Kassarj and Apostolic Vicar of the Latin Church Mgr Cesar Essayan. Patriarch Gregory Pierre XX Ghabroyan would have represented the Armenian Catholic Church, but he passed away last month.
The other representatives will be: Patriarch Youhanna X Yazigi of the Greco-Catholic Church, Catholicos Aram I, of the Armenian Apostolic Church of Cilicia, Patriarch Ignazio Aphrem II, of the Syro-Orthodox Church, and Reverend Joseph Kassbhas of the Supreme Council of the Evangelical Community of Lebanon.
The logo of the event
A logo was designed for the event: it represents the statue of Our Lady of Harissa "who watches over Lebanon," underlined Cardinal Sandri, a cedar – the Lebanese symbol par excellence – and a "new sun which rises over the country."'