| | |
| --- | --- |
| رابطة قدامى الإكليريكية البطريركية المارونية | |
ROME — Christians and Muslims share a conviction that God calls them to be "witnesses, restorers and builders of hope" both in this life and for the life to come, said the leaders of the Pontifical Council for Interreligious Dialogue.
In a message wishing Muslims a peaceful and fruitful month as they fast during Ramadan and a joyful celebration of Id al-Fitr when Ramadan is over, the officials focused on the religious value of hope and its importance today amid the coronavirus pandemic.
The message was signed March 29, before Ramadan began, by Cardinal Miguel Ángel Ayuso, council president, and Msgr. Indunil Janakaratne Kankanamalage, council secretary. The Vatican released the message April 16, three days after the Ramadan fast began.
For believers, they said, "hope arises from our belief that all our problems and trials have a meaning, a value and a purpose, however difficult or impossible it may be for us to understand the reason for them or to find a way out of them."
In addition, they wrote, "hope also carries with it belief in the goodness present in the heart of every person. Many times, in situations of difficulty and despair, help, and the hope it brings, can come from those whom we least expect."
But hope also "has its enemies: lack of faith in God's love and care; loss of trust in our brothers and sisters; pessimism; despair and its opposite, unfounded presumption; unfair generalizations based on one's own negative experiences, and so forth," the message said. "These harmful thoughts, attitudes and reactions must be effectively countered so as to strengthen hope in God and trust in all our brothers and sisters."
The suffering and sorrow caused by the COVID-19 pandemic and lockdown precautions to slow its spread, they said, reminded believers of the need both for divine assistance and for "gestures of fraternal solidarity," ranging from a simple telephone call to help buying medicines or food.
All who helped others during the pandemic and all who respond generously in times of disaster "remind us believers that the spirit of fraternity is universal, and that it transcends all boundaries: ethnic, religious, social and economic," the message said. "In adopting this spirit, we imitate God, who looks benevolently upon the humanity he created, upon all other creatures and upon the entire universe."
FIGAROVOX/ENTRETIEN - La journaliste Bénédicte Lutaud est partie sur les traces des «femmes de papes», ces religieuses, archivistes, théologiennes… qui ont marqué l'histoire récente de l'Église. La question de la place des femmes dans l'Église, comme pour tout baptisé, doit se poser selon elle en termes de «service» et non de recherche de «pouvoir».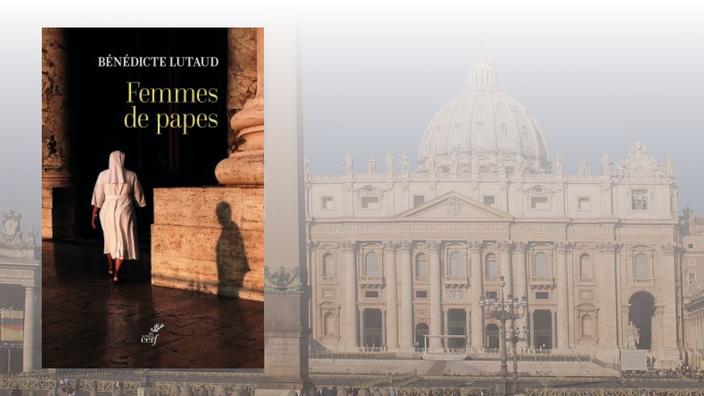 Sponsorisé par 
edreams.co.uk
Lahore-London
Bénédicte Lutaud est journaliste au Figaro. Elle publie Femmes de papes aux éditions du Cerf.
---
FIGAROVOX.- Vous avez enquêté sur la présence des femmes au Vatican, à travers l'histoire et aujourd'hui. Vous avez été surprise d'en trouver davantage que ce vous n'aviez imaginé! Pourquoi?
Bénédicte LUTAUD.- Le Vatican reste au premier abord un milieu très clérical et donc, presque exclusivement masculin. C'est en écoutant de nombreux discours de François, tandis que je couvrais quotidiennement l'actualité du Vatican, accréditée au Bureau de presse du Saint-Siège pour l'agence I.Media, que j'ai réalisé combien ce pape insistait sur la nécessité de faire «une place plus incisive» aux femmes dans l'Église, y compris au sein de la Curie romaine, le «gouvernement» du Vatican. J'ai commencé à m'intéresser à cette thématique au travers d'articles et j'ai alors découvert qu'à partir de Paul VI, le Vatican avait davantage ouvert ses portes aux femmes, et que 20 % d'entre elles travaillaient en 2014 au sein du petit État. Toutefois, très peu d'entre elles accèdent à des postes à responsabilité et notamment à la direction de dicastères, les «ministères» de la Curie romaine.
Le pape François a nommé, ces dernières années, de plus en plus de religieuses et de laïques à ces postes.
Le pape François a cependant nommé, ces dernières années, de plus en plus de religieuses et de laïques à ces postes. Derniers exemples en date: Francesca Di Giovanni, première femme à accéder à la direction de la Secrétairerie d'État du Saint-Siège - le «ministère de l'Intérieur» du Vatican - en janvier 2020, et tout récemment la Française Nathalie Becquart, à la direction du Synode des évêques… J'ai aussi eu la joie de travailler avec une femme nommée - là aussi, c'était inédit - numéro deux du Bureau de presse du Saint-Siège, une ancienne journaliste. Auparavant, ce poste avait toujours été traditionnellement réservé à un prêtre. Par ailleurs, lorsqu'est né mon projet de livre, j'ai réalisé qu'il y avait eu de nombreuses femmes, au fil des siècles, qui avaient eu une influence considérable sur l'histoire de l'Église ou auprès des papes. Paradoxe: toutes avaient fait l'objet de véritables réticences de la part de hauts prélats de la Curie romaine, jaloux de la confiance que leur assurait le Saint-Père…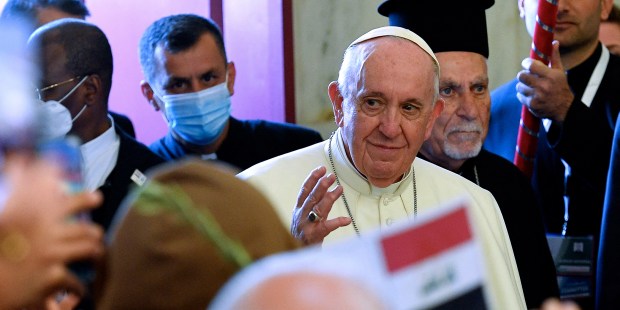 The pope humbly kept the donation private, until an Iraqi cardinal released a letter of thanks.
"Take care not to perform righteous deeds in order that people may see them …" Matthew 6:1
While on his historic trip to Iraq in March, Pope Francis made a sizable donation to help families in need. The pope took a page out of Matthew 6, conducting his charitable efforts in private. That the world knows about this donation at all is thanks to a public letter of gratitude from the Chaldean patriarch, Cardinal Louis Sako.
In a report from CNA, Cardinal Sako said he hoped that the pope's action will inspire "the intentions of the great world powers." He said:
Francis "sowed awareness of the importance of accepting and respecting diversity, behaving as different brothers, called to love each other and help each other to build situations in which every man lives with dignity, freedom and equal rights and duties."
According to CruxNow, the donation totaled $350,000. Of this sum, $250,000 will be distributed to needy families in Baghdad, $50,000 will be handled by the Chaldean Church in Mosul, and the remaining $50,000 will be distributed by the Syriac Catholic archdiocese that includes Qaraqosh.
Of the papal gift, Cardinal Sako wrote in the statement:
"The donation is a sign of just how real and concrete the pope's love for the whole Iraqi people is." The cardinal added, "We have already distributed 12,000 packages of food throughout the country."
Cardinal Sako went on to note that the donations will go to help the communities of Iraq, regardless of race or religion. He said that the Catholic bishops of Iraq had the "joyful" duty of helping families across the country in the pope's name.
Superman, played by Henry Cavill, soars above the Earth in a scene from the movie, "Justice League," by director Zack Snyder. Bishop Paul Tighe, secretary of the Pontifical Council for Culture, told Catholic News Service that Snyder's use of religious imagery in his film series attracts attention to Christ's passion because "the humanity of Christ is so clear." (CNS)
Many Catholics rely on passion plays or films to aid in their reflection on Christ's passion and death.
One of the unlikeliest of places to find echoes of this pivotal moment in Christian history is director Zack Snyder's trilogy based on the beloved DC Comics superheroes.
Snyder's version of Superman's journey, which culminated March 18 with the release of his four-hour cut of "Justice League," mirrors the defining moments in Jesus' life that Christians commemorate each year.
Spoilers to follow.
In "Man of Steel," actor Henry Cavill's Superman goes to a church and seeks counsel from a priest before facing the villainous General Zod. Behind him is a stained-glass window of Jesus praying in the Garden of Gethsemane.
Snyder's follow-up movie "Batman v. Superman: Dawn of Justice" depicts Superman's death by sacrificing his life to save the world from the genetically altered monster known as Doomsday.
Snyder himself revealed the connection to Christ's passion and death in a 2018 post on his Vero social media account in which he explained that Batman's use of a kryptonite spear was inspired by the lance used by the Roman soldier Longinus to pierce the crucified Christ.
Ben Affleck and Henry Cavill star in a scene from the movie "Batman v Superman: Dawn of Justice." The movie depicts Superman's death by sacrificing his life to save the world from a monster known as Doomsday. Zack Snyder, the director of the movie, revealed in a social media post that the movie has allusions to Christ's passion and death. (CNS/Warner Bros.)
Finally, "Justice League," brings the paschal similarities full circle with Superman's resurrection and his defeat of an evil villain that threatened to turn Earth into a wasteland of fire and ash.
While the parallels between the fictional "son of Krypton" and the factual "Son of Man" are widely known, Snyder's trilogy uses visual cues, plot points and even dialogue that further highlight those parallels with Christ's passion.
Bishop Paul Tighe, secretary of the Pontifical Council for Culture, told Catholic News Service he was moved by Snyder's Feb. 22 interview with Vanity Fair, in which the director spoke candidly about his late daughter Autumn, her struggle with depression and her "questions concerning the worth and value of her life."
"I am convinced that many filmmakers and writers attempt to confront these questions about what it is that gives worth and value to life," Tighe said. "And the stories they tell inevitably go deeper and ask, 'Why do the good suffer?' "
"I believe that believing Christians have a story to tell that address precisely those issues, a story that is rich in images and parables," he added.
Dan Clanton Jr., an associate professor of philosophy and religious studies at Doane University and an avid comic book fan, told CNS March 26 that Snyder's use of religious imagery in Superman recalls "the trope of the 'suffering servant.' "
Christian tradition holds that the figure of the suffering servant in the book of Isaiah is a messianic prophecy foretelling Christ's suffering and death.
"This idea in Isaiah 52 and 53 — that the servant of God must, in fact, suffer and suffer vicariously on behalf of the nations and then he will become a light to the nations — what Snyder does that is so innovative is to link that early Christian understanding of Jesus with all of this other religious imagery that we've seen with Superman in a very tightly connected narrative web," he said.
While Snyder's Superman draws heavily from religious imagery that connects with believers, on a larger scale, Clanton said, it appeals to a wider audience of people who, although not adhering to a traditional religion, "need to feel connected to something larger than themselves."
"By using this religious imagery, by telling a story that resonates with prior stories but by couching it in what I think we could claim is the 20th-century American mythology of superheroes, what Snyder is doing is responding to a deep-seated need on the part of moviegoers and on the part of cultural consumers for meaning, for relationship, for story."
Much like the Hebrew Midrash or Jesus' parables in the Gospels, Clanton said, comic book stories and films are "stories that help explain ourselves to ourselves, that help us understand who we are, where we come from, who we want to be."
"In the absence of a state religion, or in the absence of these inherited religious traditions increasingly, well, these superhero stories are stepping in to fill that mythic void," he said.
For Tighe, films like Snyder's DC movies seem to be inspired by a "low ascending Christology" that attracts attention to Christ's passion because "the humanity of Christ is so clear."
"I think that's why the story of Christ continues to appeal; it's not because he has 'superpowers' or is a miracle worker, or anything like that," Tighe said. "The way he redeemed the world was through love, gentleness, humility — a way that is open to all of us."
NEW YORK — U.S. Catholics have a growing concern about Christian persecution around the world, according to results of a new poll released March 17 by Aid to the Church in Need-USA in New York.
Fifty-seven percent of U.S. Catholics said they believe persecution of Christians around the world is "very severe," up from 41 percent a year ago; and 67 percent said they were "very concerned" about the issue, according to results of the fourth annual national poll on the issue.
Almost 50 percent of U.S. Catholics said they believed half or more of religiously based attacks around the world were directed at Christians; they identified China as the country where Christians are most severely persecuted, followed by North Korea and Pakistan.
However, "despite their growing awareness of the severity of Christian persecution around the world and their increasing willingness to do something about it," low percentages of U.S. Catholics were aware of "specific grave instances of persecution," the results showed.
— Just 37 percent knew that in Pakistan in 2020, 1,000 primarily Christian under-age girls were abducted, forcibly converted to Islam and subjected to a life of slavery; and just 28 percent knew there were 293 incidents of Christian persecution in India in the first half of 2020 alone.
— Only 35 percent knew that in China Massgoers are subject to digital surveillance, and just 36 percent knew that nearly 3,500 Christians were killed for their faith in Nigeria in 2020.
— About 41 percent knew that being a Christian in North Korea can carry the death penalty.
The survey showed that 52 percent percent of U.S. Catholics said Pope Francis is "very engaged" on the issue of the persecution of Christians — up from 47 percent a year ago; 30 percent think their local bishop is "very engaged"; and 28 percent believe their parish is very involved with the issue.
Pope Francis' March 5-8 visit to Iraq put the spotlight on Christian persecution in the Middle East. He went to pay homage to Christian and other minorities persecuted for their faith but also to strengthen the commitment of the overwhelming majority of Iraqi Muslims to creating a future of peace and harmony.
The Christian population in Iraq numbered around 1.5 million in 2003. With the U.S.-led invasion in 2003 and, especially with the 2014 Islamic State group takeover of the Ninevah Plain in August 2014, there are now 200,000 Christians there at the most.
A news release on the poll said it aimed to measure the extent to which U.S. Catholics are aware of worldwide persecution of Christians as well as:
— Countries and regions where they consider Christians are most severely persecuted.
— Specific measures and policies they want the U.S. and other Western governments to pursue.
— How much of a priority they feel Pope Francis, their bishops and their parishes are making the issue of Christian persecution.
— Actions they believe they can and should take themselves.
When asked to rank their concerns about global issues, 67 percent of U.S. Catholics indicated they were "very concerned" about the persecution of Christians — up from 52 percent a year ago.
The percentages of U.S. Catholics very concerned about other global issues were: human trafficking, 78 percent; the COVID-19 pandemic, 77 percent; poverty, 71 percent; climate change, 62 percent; and the refugee crisis, 61 percent.
As for supporting groups that assist persecuted Christians, 61 percent of U.S. Catholics said they donated in the prior year to such an organization; 39 percent have not made any such donation.
The majority of U.S. Catholics agreed it is important to be engaged as a community with various initiatives that help persecuted Christians around the world: 71 percent ranked prayer as "very important" to help persecuted Christians, followed by raising awareness at the parish level (67 percent, up from 59 percent a year ago); donating to agencies that help persecuted Christians (62 percent, up from 53 percent); and contacting members of Congress (57 percent, up from 52 percent).
Sixty-five percent ranked diplomatic pressure as very important to deter this persecution, up from 55 percent a year ago. Economic sanctions on countries were considered to be "very important" by 62 percent of respondents (up from 53 percent); 60 percent (up from 52 percent) favored emergency asylum; and 55 percent (up from 48 percent) supported financial aid for persecuted Christians.
"It is heartening that, compared to a year ago, significantly more U.S. Catholics say that Christian persecution around the world is very grave and that the issue has become a matter of concern to more faithful. They also want both their church and their government to step up efforts to do more to combat the issue," said George Marlin, ACNUSA chairman.
However, the poll also "shows the great need to inform the public regarding specific instances of Christian persecution," he said in a statement. "The U.S. bishops and organizations like our own must step up our educational and informational efforts."
"It is my hope that leaders around the world embrace the fundamental human right of religious freedom, and promote a society that respects ethnic, cultural and especially religious diversity," he added.
McLaughlin & Associates conducted the nationwide poll of 1,000 Catholic adults Feb. 19-26 for ACNUSA. All interviews were conducted online; survey invitations were distributed randomly within predetermined geographic units. The margin of error is plus or minus 3.1 percentage points.