| | |
| --- | --- |
| رابطة قدامى الإكليريكية البطريركية المارونية | |
Retired Pope Benedict criticizes church in Germany, says mission obscured
Jul 27, 2021
Retired Pope Benedict XVI smiles at Germany's Munich Airport before his departure to Rome June 22, 2020. The now-retired pope has criticized representatives of the Catholic Church in his home country, Germany. (CNS photo/Sven Hoppe, Reuters)
FREIBURG GERMANY — Retired Pope Benedict XVI has criticized representatives of the Catholic Church in his home country, Germany.
"As long as only the ministry, but not the heart and the spirit, speak in official church texts, the exodus from the world of faith will continue," he wrote in response to questions submitted by the magazine Herder Korrespondenz. The German church news agency KNA reported his remarks.
The monthly magazine Herder Korrespondenz sent questions to retired Pope Benedict to mark the 70th anniversary of his becoming chaplain in a Munich parish 70 years ago. Most of the statements referred to his memories from that time.
The 94-year-old has lived largely in seclusion in a former monastery in the Vatican since his resignation in 2013.
The retired pope said that in the church's hospitals, schools and in the Catholic charity, Caritas, "many people are involved in key positions who do not support the inner calling of the church and thus often obscure the mission of this institution." This was particularly evident in announcements and public statements, he wrote. KNA reported he said a distinction must be made in the church between "believers and unbelievers."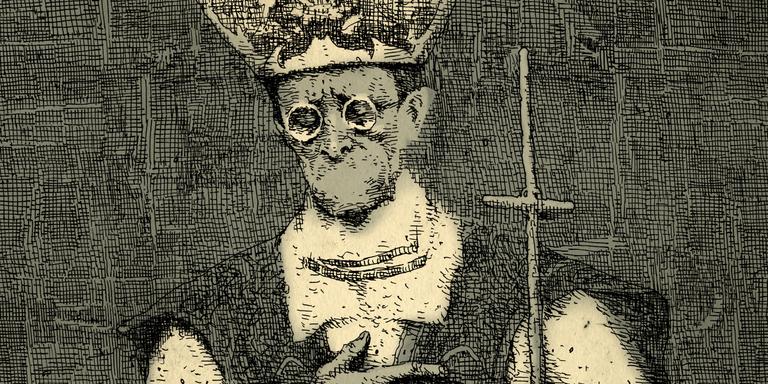 Ce que peut révéler l'ouverture des archives du Vatican sur les silences du pape Pie XII face au nazisme
ENQUÊTELes historiens ont accès, depuis le 2 mars 2020, à plus de deux millions de documents relatifs à son pontificat controversé. Mais au-delà de l'attitude du souverain pontife pendant la seconde guerre mondiale, ces archives livrent des indices sur les ambiguïtés de l'Eglise vis-à-vis des juifs.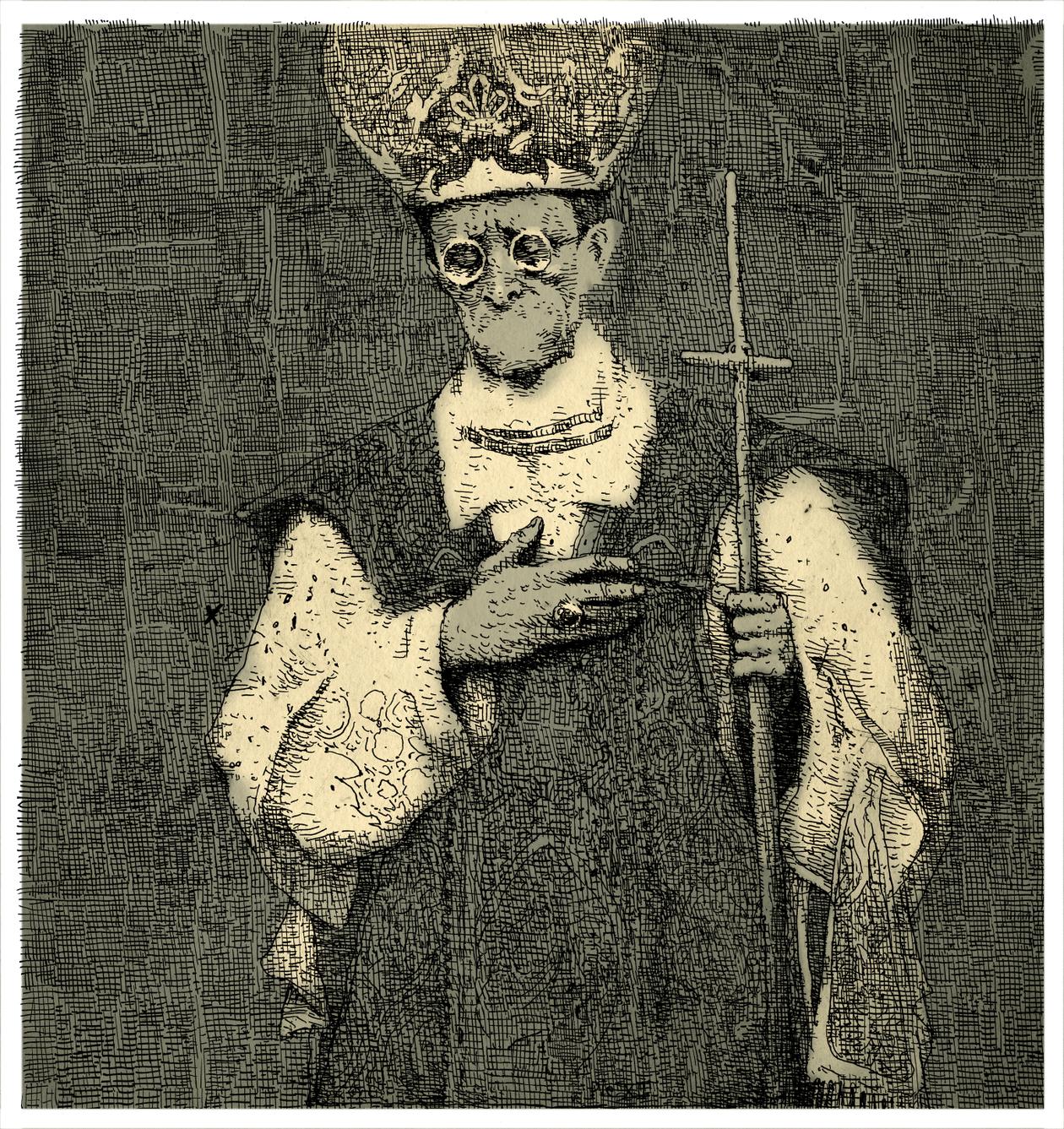 Ce matin du 2 mars 2020, Rome a la tête ailleurs. Au cœur des plaines du nord de l'Italie, l'épidémie de Covid-19, apparue au grand jour dix jours plus tôt, a déjà échappé à tout contrôle, semant dans le pays une terreur que l'Europe entière observe avec une stupeur incrédule.
Malgré ce contexte dramatique, les abords du Vatican, désertés en un clin d'œil par les touristes, sont en proie à une effervescence d'une tout autre nature. La cause en est un événement d'une portée considérable dans le petit monde des chercheurs en histoire contemporaine : l'ouverture au public des archives relatives au pontificat de Pie XII.
Désigné comme pape le 2 mars 1939, au terme du conclave le plus court de l'histoire, Eugenio Pacelli a traversé en près de vingt ans (il meurt le 9 octobre 1958) la seconde guerre mondiale, puis les débuts de la guerre froide, la création de l'Etat d'Israël et le mouvement planétaire de la décolonisation. Son pontificat correspond à une période charnière du XXe siècle, et l'ampleur des fonds mis à la disposition des historiens est proprement vertigineuse : au total, plus de deux millions de documents, préparés par un long travail d'inventaire et de classification, commencé en 2006.
Solennité et mystère
Mais rien de tout cela ne suffirait à expliquer une telle effervescence. La curiosité du grand public, elle, est concentrée sur une seule question, si explosive qu'elle en éclipse toutes les autres : l'attitude très controversée du pape face au nazisme.
« Ce jour-là, à l'intérieur des archives, il y avait un peu d'excitation mais ça restait studieux. Puis, à 16 h 50, l'appel des vêpres a sonné − c'est le signal qu'il faut commencer à ranger ses affaires. Quand je suis sortie, encore un peu dans mes pensées, il y avait toute une troupe de journalistes. C'est comme ça que j'ai été interrogée par une agence de presse, dans la rue, en italien. Ils m'ont demandé : "Pouvez-vous nous résumer en une ou deux minutes les débats sur Pie XII et la Shoah ?". Quelques heures plus tard, mes propos étaient diffusés sur une chaîne info, et mes paroles étaient doublées en français », se souvient en souriant l'historienne Nina Valbousquet, membre de l'Ecole française de Rome (un institut de recherche en histoire, archéologie et sciences humaines et sociales). Elle fréquente, depuis 2012, les archives du Vatican et fait partie de la poignée de chercheurs pouvant, au gré des confinements et des mesures sanitaires, se confronter quotidiennement à ces archives tant fantasmées.
Violence against women is intolerable, Holy See tells Human Rights Council.
By Lisa Zengarini
Gender violence, the right to education, international solidarity and the right to privacy in the digital context, are amongst the topics that are being discussed at the 47th Session of the Human Rights Council taking place from 21 June to 13 July in Geneva.
In a statement to the meeting on gender violence, and specifically on rape, on June 28, the Permanent Mission of the Holy See to the United Nations and Other International Organizations in Geneva reiterated that silence over these crimes, impunity of abusers and impassivity or indifference are "intolerable" and that any violence against women, including domestic violence, constitutes "a grave violation of human rights".
The right to life of children conceived as a result of sexual violence 
At the same time, the Holy See reaffirmed the rights and dignity of children conceived as a result of sexual violence, beginning with their right to life. "These children – it said - should not become the collateral victims of the abhorrent violence perpetrated against women. Rather, they need to be supported and loved". "Respect for human life and for every person, from conception to natural death, is the starting point for overcoming a culture of violence", the Vatican statement reiterated.
Solidarity is more necessary than ever 
Regarding international solidarity, which was discussed on 24 June, the Holy See emphasized that in this difficult time of pandemic the principle of solidarity "is more necessary than ever", noting, with Pope Francis, that in addition to COVID-19, the "virus of individualism" has spread across the globe giving the illusion that the laws of the market or intellectual property could be placed over the laws of love and the health of humanity".  It therefore urged actors at all levels, including national and local authorities, international organizations and businesses, "to foster a spirit of mutual solidarity rather than competition and to commit themselves to seeking concrete and durable solutions to the challenges posed by isolationism". In this regard the Holy See reiterated its call on States, multilateral agencies and private partners to implement a waiver on intellectual property rights in order to ensure universal access to Covid-19 care and vaccines.
Making education accessible to all
On the same day, the Vatican's Permanent Mission intervened on the right to education calling for "a robust and holistic approach to education" and emphasizing the need of making education accessible to all. "The neglect and underfunding of the public educational system raise concern because a system whereby the accessibility of education is determined by a family's wealth will have long-term negative impacts on society and further entrench inequalities along socio economic lines", the statement noted.  The Holy See also highlighted the fundamental role of parents in providing for quality education for their children, specifically with regard to their moral and religious formation. "Indeed parents have the right and responsibility to ensure that their children receive an adequate and holistic education that is capable of promoting the wellbeing of children in all of their human dimensions, including the physical, mental, moral, spiritual and social", it said.
Parents' rights in educating their children  
The right to privacy in the context of the digital world was discussed by the session on 2 July. On this issue, the Holy See  emphasized that it is of the "utmost importance to address more effectively the protection of the dignity of children in the digital world". To this end the it  called for a closer cooperation and a "firm commitment" on the part of every member of society, "especially parents", who are "fundamental to their integral human development".There is 
No right to reproductive sexual information and services, including abortion
In this regard the Vatican's Permanent Mission warned against the negative approach "in which the rights of the child are in opposition to the legitimate rights and responsibilities of parents, saying a positive approach is needed instead "one that embraces and supports the constructive and necessary role of parents in protecting and educating their children". Accordingly, the mandatory parental notification and/or consent for prescribed contraceptives and abortion should "not be considered an infringement on the right to privacy", as "international law does not recognize a so-called right to "reproductive sexual information and services", the Holy See reiterated.
Pope Francis recalls the annual Sea Sunday occurrence inviting everyone to take good care of our seas and oceans.
By Linda Bordoni
Pope Francis reminded the faithful on Sunday, 11 July, that today is Sea Sunday: "dedicated in a special way to all those who rely on the sea for their work and livelihood."
Celebrated annually, Sea Sunday, is a day for people to come together to pray for seafarers and fishers and thank them for the vital role they play in all of our lives.
As Pope Francis points out, it is also a day in which to highlight the importance of caring for the sea and its ecosystem.
Speaking after the Angelus prayer, the Pope said he is praying for seafarers and he exhorted everyone to take care of the oceans and of the seas.
"Take care of the health of the sea: no plastic in the sea!" he said.
8 million tons plastic enter the ocean every year
UN figures show 8 million tons of plastic enter the ocean annually, killing marine life and feeding into the human food chain.
Pope Francis makes many references to the need to care for oceans and seas in his encyclical "Laudato sì, On Care for Our Common Home". In paragraphs 40-41, he writes: "Oceans not only contain the bulk of our planet's water supply, but also most of the immense variety of living creatures, many of them still unknown to us and threatened for various reasons...Particularly threatened are marine organisms which we tend to overlook, like some forms of plankton; they represent a significant element in the ocean food chain, and species used for our food ultimately depend on them...In tropical and subtropical seas, we find coral reefs comparable to the great forests on dry land, for they shelter approximately a million species, including fish, crabs, molluscs, sponges and algae. Many of the world's coral reefs are already barren or in a state of constant decline. 'Who turned the wonderworld of the seas into underwater cemeteries bereft of colour and life.'"
In a letter to business leaders at a 2018 Vatican conference on the fourth World Day of Prayer for the Care of Creation, he said "We cannot allow our seas and oceans to be littered by endless fields of floating plastic." 
"We need to pray as if everything depended on God's providence, and work as if everything depended on us," he said.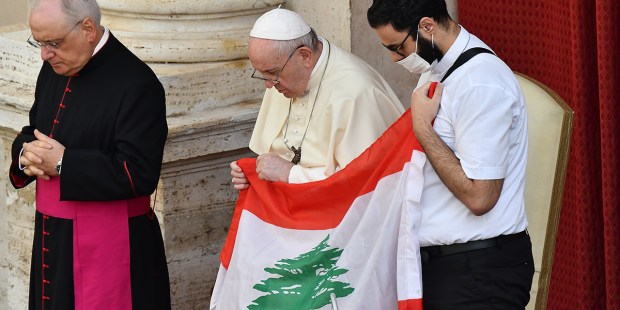 The special role of this country is threatened with difficulties.
On July 1, Pope Francis will welcome to the Vatican a delegation of the main leaders and representatives of the Christian Churches in Lebanon. The day's program was presented at a press conference at the Vatican on June 25.
The day will begin at 8:30 am when the Lebanese Christian representatives will be received at the Casa Santa Marta by Pope Francis. The pontiff will give a speech to welcome them, then all will go to St. Peter's Basilica at 9 a.m. for a brief moment of prayer.
From 10 a.m. to 6 p.m. Christian representatives will participate in three consultation sessions during which each point of view will be presented. No common appeal is planned, said Cardinal Leonardo Sandri, prefect of the Congregation for the Eastern Churches, but there will be a "word from the pope" which will give indications and can be read as a "program" for the future of Lebanon. This final address from the Holy Father should be given at 6 p.m. in St. Peter's Basilica during a moment of ecumenical prayer for peace.
Summit participants
The list of 11 summit participants was presented. On the side of the communities under the Holy See, will be the apostolic nuncio to Lebanon, Bishop Joseph Spiteri – who will be the moderator of the meeting – as well as the Maronite Cardinal Bechara Boutros Raï, the Syro-Catholic Patriarch Ignace Youssef III Younan, the Melkite Patriarch Youssef Absi, Chaldean Bishop Michel Kassarj and Apostolic Vicar of the Latin Church Mgr Cesar Essayan. Patriarch Gregory Pierre XX Ghabroyan would have represented the Armenian Catholic Church, but he passed away last month.
The other representatives will be: Patriarch Youhanna X Yazigi of the Greco-Catholic Church, Catholicos Aram I, of the Armenian Apostolic Church of Cilicia, Patriarch Ignazio Aphrem II, of the Syro-Orthodox Church, and Reverend Joseph Kassbhas of the Supreme Council of the Evangelical Community of Lebanon.
The logo of the event
A logo was designed for the event: it represents the statue of Our Lady of Harissa "who watches over Lebanon," underlined Cardinal Sandri, a cedar – the Lebanese symbol par excellence – and a "new sun which rises over the country."'