| | |
| --- | --- |
| رابطة قدامى الإكليريكية البطريركية المارونية | |
Pope announces 2 March as day of prayer and fasting for Ukraine
Pope Francis says his heart aches over the situation in Ukraine and announces a "Day of Fasting for Peace" on Ash Wednesday.
By Vatican News staff reporter
During the General Audience on Wednesday, Pope Francis made a heartfelt appeal for peace in Ukraine, saying that the threat of war had caused "great pain in my heart."
"Despite the diplomatic efforts of the last few weeks," the Pope said, "increasingly alarming scenarios are opening up," with many people all over the world feeling anguish and pain.
He also prayed that "all the parties involved refrain from any action that would cause even more suffering to the people, destabilizing coexistence between nations and bringing international law into disrepute."
Prayer and fasting for peace
Speaking at the end of the General Audience, Pope Francis invited everyone to make 2 March, Ash Wednesday, a Day of Fasting for Peace.
"I encourage believers in a special way to dedicate themselves intensely to prayer and fasting on that day. May the Queen of Peace preserve the world from the madness of war," he said.
Russia and sanctions
As the threat of war looms in Eastern Europe, the United States sought to put pressure on Russia on Wednesday by stepping up sanctions.
The U.S., the European Union, Britain, Australia, Canada, and Japan planned to target banks and elites while Germany froze a major gas pipeline project from Russia.
British Foreign Secretary Liz Truss said Britain would stop Russia from selling sovereign debt in London.
The moves come after Russia deployed troops in separatist regions of eastern Ukraine.
Putin on Monday recognized the enclaves in the Donbas region which border Russia, raising increasing fears in the West of a major war.
Ukraine prepares
According to the Ukrainian military, one soldier was killed and six wounded in increased shelling by pro-Russian separatists using heavy artillery over the previous 24 hours.
The military also said Ukraine has started conscripting reservists aged 18-60 following a decree by President Volodymyr Zelenskiy.
Meeting on hold
As the current situation intensifies, the White House said a possible meeting between U.S. President Joe Biden and President Putin is "certainly" not an option at the moment, adding that a de-escalation of conflict with Ukraine would be needed for such a summit.
Rogue drone was disabled during Pope's Mass in Slovakia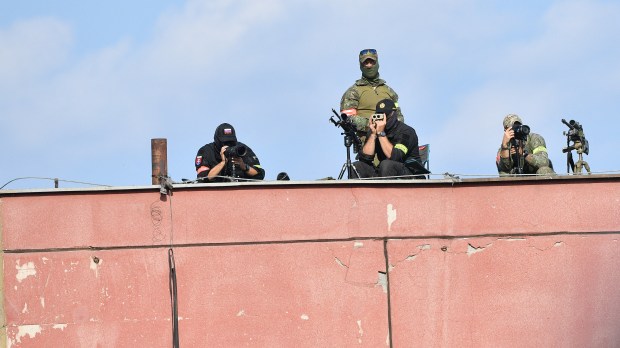 More than 60,000 faithful, including 90 bishops and 500 priests were in attendance at the September event.
An Israeli company hired to protect Pope Francis during his visit to Slovakia removed a rogue drone that was flying over the open-air Mass celebrated by the Holy Father, reported The Jerusalem Post.
D-Fend, an anti-drone technology company, worked with the Slovakian government to protect the pope during his visit to Slovakia from September 12-15.
During the pope's trip, the company deployed its Enforce Air product which detected a number of friendly drones that had been authorized to fly. The technology was designed to detect unauthorized "rogue" drones, reported the Jerusalem Post.
When a "do-it-yourself" drone was detected during the open-air Mass in Šaštín, which was attended by Pope Francis, 60,000 faithful, and  90 bishops and 500 priests, D-Fend took steps to remove the threat.
"EnforceAir fended off the rogue drone, sending it back to its original takeoff position, far away from the large crowd," D-Fend said.
"Protecting such a high-profile event is of the utmost importance, so we wanted to utilize a counter-drone technology that is best suited for crowded events and sensitive situations," a representative from D-Fend told the Jerusalem Post.
 "EnforceAir's innovative solution took control of the rogue drone that threatened the potential safety of the pope, the crowd and the VIPs in attendance, quickly and easily," said the D-Fend representative.
Increasing security threat
Drones have increasingly been a cause of concern and a threat to public safety.
"Drones are posing an increasing threat to national security around the world – to critical infrastructure, civilians, and now to leaders,"the D-Fend representative said in the report,
The company cited recent incidents involving drones that threatened Iraqi Prime Minister Mustafa al-Kadhimi and Venezuelan President Nicolas Maduro.
What I learned from my guardian angel
Dec 11, 2021
A statue of an angel carrying Christ's cross is seen on the Castel Sant'Angelo bridge in Rome. (CNS/Paul Haring)
My brother Oliver died 41 years ago of pneumonia in my mother's arms. After bathing him in bed with a sponge for 32 years, after feeding him with a spoon for 32 years, after pulling down the shade each morning so the rising sun did not burn his tender skin, Oliver took his last breath and my mother whispered, "Goodbye my angel."
When I was a boy, it was my job to feed Oliver dinner: a raw egg, baby cereal, sugar and a banana puréed inside a red ceramic bowl my father received one Christmas filled with plum pudding. I never needed a watch for I had this instinctive feeling that it was time to feed Oliver, and I never missed. If I was playing baseball on the front lawn in the summer, or sledding down the neighbor's hill in the winter I'd suddenly call out, "Gotta go! Gotta feed Oliver!" and I'd abandon my position at third base, or grab my sled and rush home.
Oliver was blind. Once I doubted that he couldn't see, thinking maybe he was faking it, so I snuck up on him and waved my hand right in his face. He never blinked.
Oliver couldn't talk, read or sing. The doctors, after many tests, convinced my parents that Oliver had no intellect, no possible way of learning anything due to severe brain damage before he was born.
My brother was on his back in his bed for 32 years. His bed was against the yellow wall, and my father built a wide swinging door on the other side so Oliver would not roll out. He never moved. He was rolled back and forth and bathed each day. He never had a bedsore.
Oliver, the author's brother, is pictured with their brother Bruino in the family's Christmas card from 1948. (Courtesy of Christopher de Vinck)
We never know how sorrows of the past will influence us in the future. When Oliver was born, my parents were devastated. With each passing day they learned more and more of Oliver's afflictions: unable to lift his head, unable to chew, or walk, or grow up to be the president of the United States. So instead, they just chose to call Oliver their son and they chose to love him.
Because of that single decision I was given a guardian angel, and I didn't realize it until many years later.
I liked watching how gently my father shaved Oliver and combed his hair. I liked helping my sister carry Oliver to the bathtub. I liked propping Oliver up with my hand behind his head as I gently touched the rim of the glass to his lips and watched as he slowly drank the cold milk.
Oliver learned to do two things: raise his crooked arms up and down and laugh. That is all. Sometimes in the middle of the night I could hear his belly laughter echoing down the hall. My grandmother often said that Oliver was laughing with the angels.
Often when I am tired after a long day, I rub my face and I think of Oliver's deep, brown eyes. When I pour a bowl of cereal in the morning before trudging off to work, I often think of Oliver's red bowl that I carried up to his room all those years as a boy.
Remember that charming film "As Good as It Gets," where Melvin, played by Jack Nicholson, says to Carol the waitress, played by Helen Hunt: "You make me want to be a better man"?
Oliver made me a better man. I have been a father, teacher and writer all of my life. Through my brother's helplessness he taught me how to help children in need. Through his silence he pointed out how to be a poet. Through Oliver's hunger he showed me, like Merlin, how to mix life in a red bowl. Oliver was my guardian angel.
The Islamic tradition speaks about the raqib, the watcher, an angel who protects mankind throughout our lives. The Buddhist lamas teach that the devas are angel-like, ethereal beings who applaud our goodness, rejoice when we are well and rain flowers over us when we struggle throughout lives.
In Judaism the angel Lailah protects pregnant women at night, and serves as a guardian angel to everyone in life and guides their souls on their paths to heaven.
Christians believe, as Pope Francis said in 2014, that "no one walks alone, and none of us can think he is alone." And he acknowledged that the voice of our guardian angel is always within us, whispering wisdom and comfort during our times of distress.
I wish the world could rub the sponge onto Oliver's tender skin, and feed him from the depth of the red bowl, and give him milk. I wish we could all stand at his bedroom door together as a civilization at midnight, during these times of distress, and hear Oliver laugh.
On my brother's tombstone at the Benedictine monastery in Weston, Vermont, my mother wrote "Blessed are the pure of heart, for they shall see God." May your guardian angel help you see God, Allah, Buddha, Abraham, Christ. May we all sleep in peace and laugh at midnight.
George Eliot, in her novel Silas Marner wrote, "In old days there were angels who came and took men by the hand and led them away from the city of destruction. We see no white-winged angels now."
Perhaps Oliver could guide us all out of the cities of destruction this Christmas. I wish I could carry Oliver to Bethlehem, to Mecca, to the Wailing Wall, to the Buddha, to the temple, mosque and church and have the world touch Oliver's hand.
Pope sends a letter to the King of Bahrain
Cardinal Luis Tagle, the Prefect of the Congregation for the Evangelization of Peoples visited Bahrain for the consecration of the Cathedral of Our Lady of Arabia. The Cardinal also presented the Bahraini King with a letter from Pope Francis.
By Vatican News staff writer
The newly-constructed Cathedral of "Our Lady of Arabia", Awali, Bahrain, was inaugurated on 9 December by King Hamad bin Isa Al Khalifa of Bahrain.
Present at the occasion was Cardinal Luis Antonio Tagle, prefect of the Congregation for the Evangelization of Peoples who consecrated the Cathedral dedicated to Our Lady, on the next day in the presence of the Apostolic Nuncio to Bahrain, Kuwait and Qatar and Apostolic Delegate to Saudi Arabia, Archbishop Eugene Martin Nugent and the Apostolic Administrator of Northern Arabia, Bishop Paul Hinder. 
During the homily at Mass, the Cardinal urged the faithful to be "living stones" that make the Church a home to the family of God. He also highlighted three ways through which Christians can remain living stones in Jesus, our cornerstone: listening to the Word of God, offering ourselves as spiritual sacrifices acceptable to God, and the service of charity.
Cordial meeting
Cardinal Tagle also presented a letter from Pope Francis to the Bahraini King, who, for his part, expressed his desire to receive the Pope in Bahrain one day . On 3 February 2020, Pope Francis had received the King in audience at the Vatican.
It was "a very cordial meeting," said Bishop Hinder, describing the meeting which took place on 10 December between King Hamad Al Khalifa and Cardinal Tagle, accompanied by Archbishop Nugent. He added that the King also reiterated his desire to encourage an ever-greater opening of the country to people non-Muslim people.
Subsequently, Cardinal Tagle met with some members of the local Catholic community and highlighted their "unique experience of living the ecclesial communion within a community that has the characteristic of being multi-ethnic, multilingual and multi-ritual," formed mostly by immigrants who came to Bahrain in search of work.
The new cathedral
The tent-shaped Cathedral of Our Lady of Arabia has a seating capacity of 2300, and has its roof modeled in the shape of an octagonal dome. It is decorated with icons telling the story of key events in the history of Salvation.
The Cathedral also spots two chapels: a Blessed Sacrament chapel and another within which a life-sized statue of Our Lady of Arabia, the Patroness of the Vicariate, is enshrined.
The land for the Cathedral and Bishop's house was donated by King Hamad bin Isa Al Khalifa in 2013 to late Bishop Camillo Ballin. On 19 May 2014, the King visited the Pope in the Vatican and presented him with a model of the Cathedral. The ground-breaking ceremony for the Cathedral was held on 10 June 2018.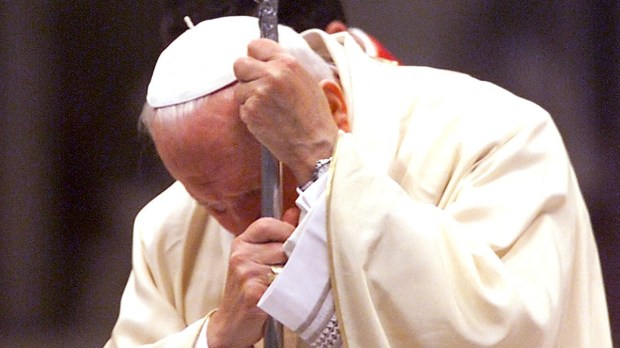 But urges communion: How can we proclaim the love of Christ who gathers the nations, if we ourselves are not united?
In Greece, Pope Francis has followed in the footsteps of Pope John Paul II in asking forgiveness of the Orthodox for the mistakes made by Catholics — "actions and decisions that had little or nothing to do with Jesus and the Gospel, but were instead marked by a thirst for advantage and power" and that "gravely weakened our communion."
In a moving reflection during a meeting with His Beatitude Hieronymos II, he nevertheless invited Christians of both confessions to lean on their common roots.
Just hours after landing from Cyprus, the Pope was received by the Primate of All Greece. This meeting was the second between the two men, after that of 2016 in Lesbos.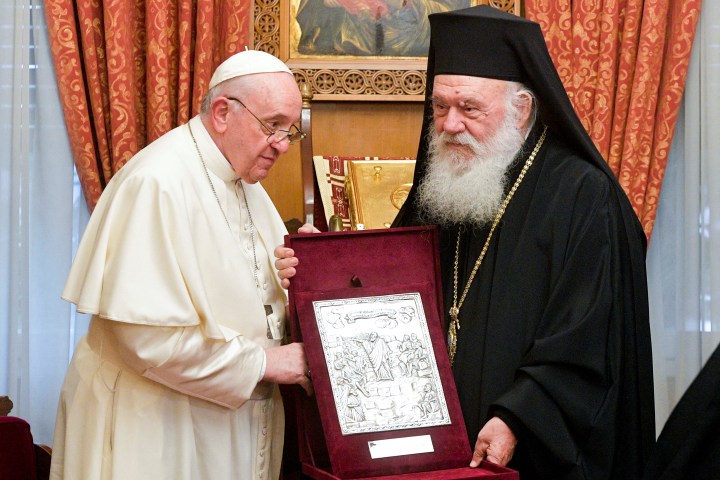 Photo by Handout / various sources / AFP
The Pope's reflection centered on the symbolism of the olive tree.
A short time ago, I mentioned the age-old olive trees that our lands have in common. Reflecting on those trees that unite us, I think of the roots we share. Underground, hidden, frequently overlooked, those roots are nonetheless there and they sustain everything.

 

What are our common roots that have endured over the centuries? They are the apostolic roots. Saint Paul speaks of them when he stresses the importance of being "built upon the foundation of the apostles" (Eph 2:20). Those roots, growing from the seed of the Gospel, began to bear abundant fruit precisely in Hellenic culture: I think of the early Fathers of the Church and the first great ecumenical councils.
The fruitfulness, though, was "compromised by division," the Pope said, and asked for forgiveness. "Tragically, in later times we grew apart. Worldly concerns poisoned us, weeds of suspicion increased our distance and we ceased to nurture communion."
Yet we are comforted by the certainty that our roots are apostolic and that, notwithstanding the twists and turns of time, what God planted continues to grow and bear fruit in the same Spirit. It is a grace to recognize one another's good fruits and to join in thanking the Lord for this.
A few minutes earlier, Hieronymus II had asked, without wanting to "embarrass" Pope Francis, that the latter have the courage and the honesty to consider the missing signs and omissions of his predecessors.
The Orthodox Patriarch alluded to the Greek War of Independence. According to a specialist in the Orthodox world contacted by I.MEDIA, in 1821, the Western powers and the Vatican had not supported the civil and civic resistance movement of the Greeks then under Ottoman influence.